Maintain machine functionality and performing preventive maintenance
Abrasion and deterioration of machine's part are progress gradually over time. In order to maintain stable and safety operation, proper maintenance, periodical overhaul, replace & repair parts activities and daily checking of operating condition are very important.
Hitachi provides service of solutions to customer's problems by using abundant experience, knowledge and recent technologies. Our solutions make it possible for customers to do an optimum economical operation, extend life cycle of machines, modernize, upgrade and renew aging machines.
Preventive Maintenance Activities
Daily Cycle Activities
Enhancing of preventive maintenance by repeated activity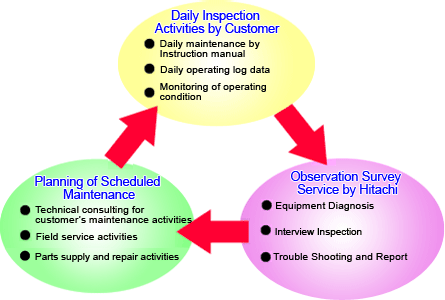 Total preventive maintenance depends on the above repetitive activities of [Daily Inspection Activities], [Observation Survey Service], [Scheduled Maintenance].
Average Failure Rate and effects of Preventive Maintenance
Following curve shows averaged tendency of machine failure rate under the long time operating since from initial start of operation. In general, failure rate rise significantly when operating time of machines exceeded a point of Random Failure.
During the Random Failure operating period, preventive maintenance activities and periodical overhaul activities and diagnosis inspection are very useful for economical and proper maintenance.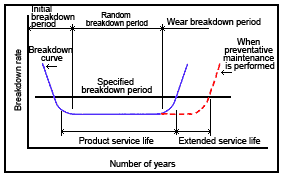 Graph showing the relationship between breakdown rate and number of service years