Toward the goal of steady and continuous operation of equipment and facilities
In general condition of machine is easily confirmed by daily checking of machine, archive of operating log, operating circumstance. But Hitachi's advanced diagnosis technologies are able to inspect the progress of machine deterioration more strictly and quantitatively.
Our experts apply the dingnosis technologies to a lot of equipment shown below.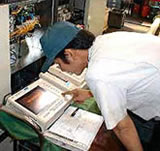 Spectrum analysis of electric power supply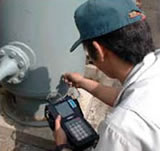 Measuring of wall thickness of vessel by using Ultrasonic Inspection diagnosis detector
Diagnosis Technology
Ultrasonic corrosion diagnosis
Hitachi's ultrasonic diagnosis can inspect corrosion progress inside of vessels and equipment without dismantling. Also this inspection is availabele during machine running and operating.
Estimating carrion condition of cast iron and carbon steel by using a master evaluation curve created based on the characteristics of ultrasonic diagnosis detector.
Corroded condition (area and depth) and wall thickness is visually displayed on monitor
Ultrasonic diagnosis system is consisted of potable PC and handy type detector, which is optimal for onsite working.
Diagnosis equipment appearance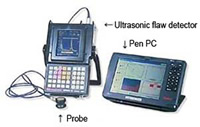 Major specifications
Original exclusive software for corrosion diagnosis
To be detected: Cast iron (FC), carbon steel (SS)
Wall thickness: 10-50 mm
Wall thickness resolution: 0.2 mm
Measurement principles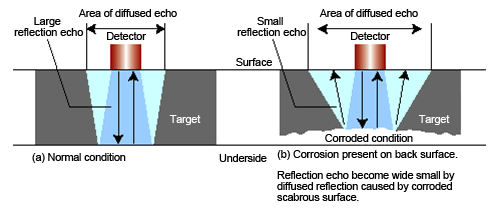 Pulsation analysis of piping systems (reciprocating compressors)
Hitachi improves piping vibration trouble caused by pressure pulsation from reciprocating compressors.
Analysis of piping vibration
Performance problem caused by compressor's valve malfunction
Analysis of instability of safety relief valve
Features
Vibration simulation and analysis for improvement of high vibration
Pulsation analysis of piping system is available for both Hitachi reciprocating compressors and other supplier's.