Policy and Purpose of Maintenance Activities
Hitachi offers various services based on advanced technologies and abundant experience and knowledge for the purpose of preventive maintenances of machines.
Hitachi's technical consulting activities are provided with all related equipment around the compressor such as Suction Filter, Heat Exchanger, Control Panel, Driver and Lube Oil System for the purpose of preventive maintenance, energy save, cost reduction of operation and extension of machine's life cycle.
Based on a computerized maintenance archive management system, Hitachi offers plans of maintenance activities for all related customer's equipment by using the latest diagnosis technology for precise inspection and examination issues. Hitachi also offers periodical maintenance activities, inspection and shop repairing activities to improve economical operation & maintenance, safe operation and anti-aging of machines.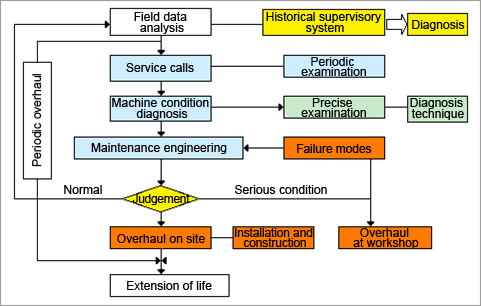 Example of technical consulting