Suction sump flow simulation
We calculate the generation of air entraining vortices and submerged vortices using turbulence analysis and our own original algorithms. We strongly support the reqvirenlat for more compact water suction sump designs.
Air entraining vortex:

Swirling currents produced from a free surface (water's surface) to the inlet of the suction pump from fast moving air induced by the suction of the pump

Submerged vortex:

Swirling current pressures produced from the bottom and the sides of the suction sump that fall below vapor pressure induced by the suction of the pump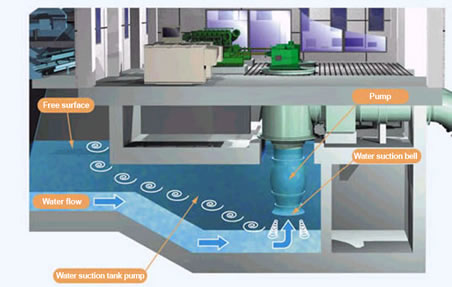 Underwater vortex and air suction vortex phenomena in the pump suction sump
Summary of the analysis
We evaluate the conditions for the water channel, receiving tank, and pump suction sump using flow analysis.
We use analysis results and evaluate the pump suction sump conditions to investigate the presence of harmful vortices.
When harmful vortices are generated, we propose appropriate countermeasures.
Comparison between test and analysis results
We always compare the analysis results with the test results, and thoroughly check that the analysis results can be used in the investigation.


Air suction inlet


Submerged vortex


Graph of the stages of submerged vortex creation
Main applications
Pump equipment for the water suction tank