Higher flow velocity in the suction channel
We have achieved higher flow velocities in the suction channel by using a closed pit.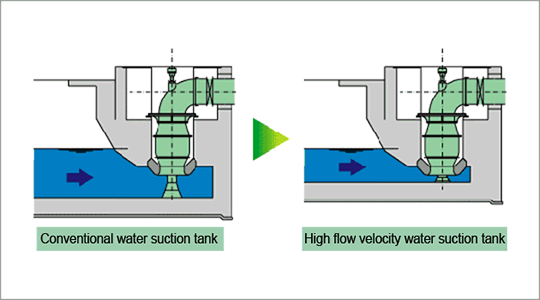 Images of a conventional suction sump and a high-velocity flow suction sump
Effects
Construction costs can be reduced by making the suction channels more compact (reducing the channel width and raising the suction channel bottom level).
(In-house comparison)
Improvement points
We have increased the flow velocity in the closed-type suction sump by more accelerating the approach velocity than the conventional suction sump, having reduced construction costs by narrowing the channel width and by raising the suction channel bottom level.
Suction channel loss increases due to the high flow velocity, the pump head is larger, and there is a higher motor output.
The high velocity in the suction sump has increased the suction channel loss, as the result, increased the pump total head and the output power of the prime mover. The complexities and feasibility of construction must always be adequately considered and planned.