Features
High reliability
We have accumulated many achievements by adding new technologies to the technologies we have cultivated over many years.
Since the 1970s we have adopted a unique automatic computer design system that has proven to be highly reliable.
High efficiency
Our high-efficiency 3D impeller has been used in many countries throughout the world.
Our compressors have high efficiency at the top level in the world, and are also compact and lightweight.
Robust Design and outstanding technology
In addition to tilting pad bearings, we also have the technology for oil-free magnetic bearings.
We use various types of analysis techniques, including high-pressure fluid vibration analysis technology.
We aim for more advanced products through the use of an integrated system of design and manufacturing using 3D CAD.
Main applications
These are used for many applications in oil refineries and desulfurization plants, synthetic gas plants, various types of natural gas plants, chemical plants, etc.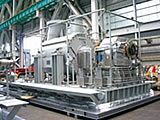 BCH804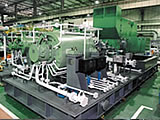 BCH458