Features
High reliability
We have a long history arising from our technology cultivated over many years combined with new technology.
Since the 1970s we have adopted a unique automatic computer design system that has proven to be highly reliable.
High efficiency
Our high-efficiency 3D impeller has been used in many countries throughout the world.
Our compressors have high efficiency at the top level in the world, and are also compact and lightweight.
Easy-to-maintain structure and excellent technology
Our analysis technology for the shaft system and other excellent technologies are highly reliable.
The structure within the casing takes maintenance into consideration, including the bearings and seals.
Main applications
These are used in ethylene plants, ammonia plants, oil refineries, and chemical plants.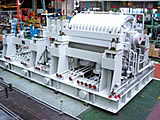 2MCH608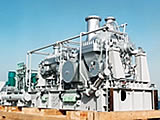 2MCH806+2MCH607