Axial Vibration Prevention
Hitachi has developed a real-time simulator, which simulates the physical control system in real time.
The simulation models cover the main circuits of the drive motor and driven mechanical load.
For example, axial vibrations happens to be generated by resonant frequency from the load. Prior to shipment of the drives for such applications, Hitachi evaluates the resonance effects to prevent axial vibration.
This real-time simulator works not only to improve reliability, but also to shorten the commissioning period on site.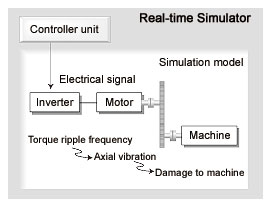 Quality Production
Hitachi has implemented a production data management system which displays on a video terminal the last updated or the new schematics and the Bills of Materials (BOM). Visual assistance helps the manufacturing work force to prevent human error and to improve quality. No paper schematics are used in the wiring and assembly process.