Our products
For Oil and Gas Fields, we provide high-power and high-performance pumps to your needs.


Injection Pumps
Features
Ensures high reliability by excellent cavitation characteristics and by using a corrosion-resistant, high-intensity duplex stainless steel material for handling Sea water and Produced water.
Achieves better life cycle cost (LCC) by high pump efficienoy resulting from high accurate computational fluid dynamics (CFD) technology.
Ensures stable operation that results in very low vibration levels, by precise rotor dynamics verification.
Adoption of cutting-edge technology for shaft seals and bearings achieves compactness and longer lifetime of auxiliary equipment.
Delivery record
Location : Saudi Arabia
[ Sea Water Injection Pump Specification ]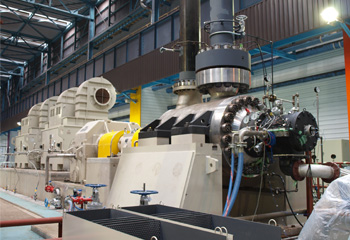 | | |
| --- | --- |
| No. of Sets | 1 |
| Type | Barrel Casing, Multi-Stage, Turbine Pump (API610, BB5) |
| Capacity | 2,725m3 / h |
| Total Head | 1,743m |
| Driver | 28,348kW Gas Turbine (ISO rating) |
| Material | All Duplex-Stainless Steel |
[ Brine Injection Pump Specification ]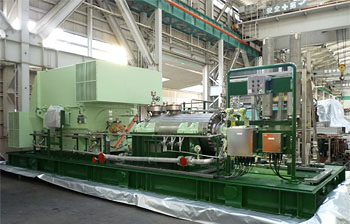 | | |
| --- | --- |
| No. of Sets | 4 |
| Type | Barrel Casing, Multi-Stage, Turbine Pump (API610, BB5) |
| Capacity | 377m3 / h |
| Total Head | 1,319m |
| Driver | 2,650kW Induction Motor |
| Material | All Super Duplex-Stainless Steel |