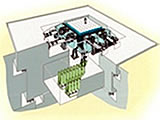 Our dynamic mechanical testing system support research and development of earthquake behavior to building structures, elevated bridges, nuclear power equipment, etc.,and this system is also used for the evaluation of Bullet train's (Shinkansen) robustness, which has been aimed to be the best in the world.
This system contributes to safety and secure society to reduce earthquake damage and to improve safety of bullet trains aiso.
Overview
These following systems supports research and development in various fields, such as reducing earthquake damage loss, keep secure-high-speed railways systems, prevention of accidents on freeways, etc.
This test plant supports R&D for trains to secure traveling safety and stability of Shinkansen car.
This is a vibration table for carrying out vibration tests for civil engineering, by rotating the arm to apply N times the gravity force to a 1/N scale model by centrifugal force. It is used for scale model testing of the ground.
Truly reproducing the 3D-6D of movement of earthquake it supports to study a seismic performance examination of structure and ground for earthquake-proof validation.
Heavy loading test equipment to be used for a performance test of seismic isolation rubber
The test equipment includes system components such as mechanical equipment, ancillary equipment, electrical equipment and instrumentation and control equipment. We support our customers' maintenance with our specialized technology.