Appropriate maintenance and servicing are essential for maintaining the functionality of pumps. Please use our diagnosis technologies.
Overview
Internal inspections with an underwater camera and endoscope camera and ultrasonic corrosion diagnosis are effective for monitoring deterioration conditions and abnormalities inside an installed pump. We collect data that will serve as the criteria for overhauls and update planning and contribute to early detection of causes of abnormalities by providing highly reliable diagnosis and measuring technologies that are used in various tools, including analysis and inspection equipment.
One-stop solution service
The maintenance and diagnosis technology shown here is equipment diagnosis technology for pumps that are in service. However, you can select technology that is most suitable to your maintenance needs based on managed trends and comparisons with standard data (design valve) at the time of pump installation.
We also combine technology to provide versatile diagnosis results, optimal energy conservation and a longer service life to offer you a one-stop solution service with minimal life cycle costs.
Inspections with underwater camera (underwater robot) equipment and endoscope camera equipment
Internal parts of the pump such as impellers and casing liners can be checked by inserting an underwater camera (robot and endoscope) into the pump.
(Working conditions such as dirty water and the amount of foreign material sticking to the parts could obstruct the equipment's view.)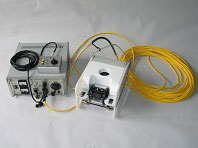 Underwater robot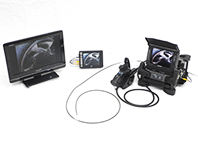 Endoscope camera
Inspection of cast-iron pipe parts with the corrosion diagnosis system
The measuring equipment consists of an ultrasonic flaw detector and a pen PC.
We can travre the corrosion condition and thickness of the cast-iron pipe from the outer surface of the pipe to the inner surface using ultrasonic waves processed through the PC.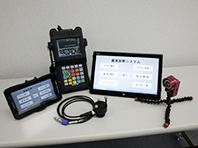 Corrosion diagnosis system
On-board mobile-type multifunction diagnosis service
Main on-board equipment
Vibroscope, sound level meter, FFT analyzer, data recorder, PC/printer, and analysis related software, corrosion diagnosis system (ultrasonic wave), industrial endoscope camera, chlorine ion densitometer, tank thickness diagnosis equipment, internal pump inspection equipment, AC 100 V self-powered supply equipment (power generator) equipment, etc.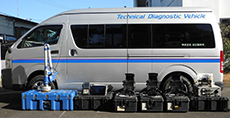 All the measuring equipment and the diagnosis vehicle
Higher precision diagnosis can be done by combining built-in tools with diagnosis-based tools.
We process measurement data and images are processed and disseminated on-site, and respond quickly and accurately by sharing the information within the factory or at the service location.
A built-in generator also allows for on-site measurements at facilities and locations with no power.
Summary of inspection results
The examples below are images of the external conditions of the inner surface of the column pipes, bearing bracket, casing (guide vane), impeller and casing liner of the installed pump.
Results of inspecting the internal pump with underwater camera equipment (underwater robot) and endoscope camera equipment
We can check the corrosion and wear of the impeller and casing liner, the existence of foreign matters, etc. visually by photos.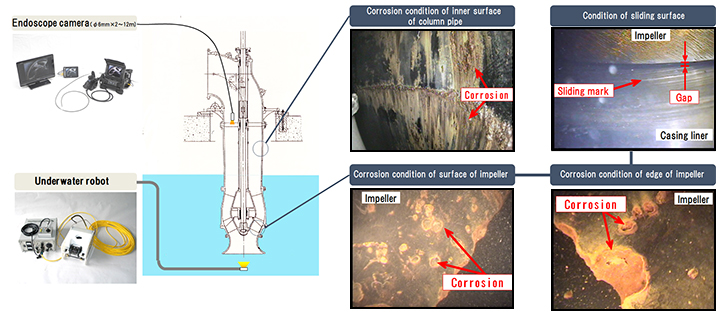 Diagnosis results of a pump discharge bend pipe using the corrosion diagnosis system
By means of ultrasonic measurement, the corrosion and thickness on the inner surface of the pipe channel are identified and estimated visually in 2D images as spatial distributions.
The diagnosis results are actual with the material on the inner surface.