Response to customer's needs with on time remote supervising service by skilled engineers under the circumstances of COVID-19.
Hitachi Industrial Products, Ltd. successfully completed the remote commissioning supervising service in the Russian Federation (hereinafter referred to as "Russia") for a CO2 compressor delivered for use in a urea production facility in the fertilizer complex in Veliky Novgorod, Russia, owned by PJSC ACRON, a major Russian fertilizer company.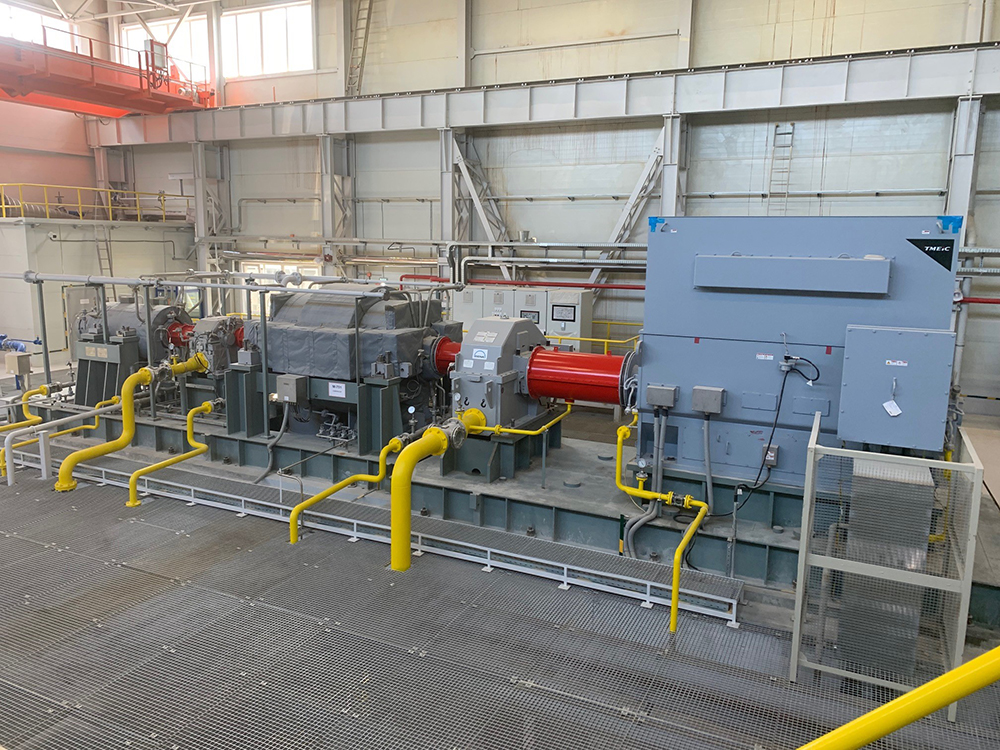 Centrifugal compressors for urea plant
Background
Our centrifugal compressors have been supplied for global oil refineries and petrochemical plants, including those in Russia, Southeast Asia and the Middle East. As a common practice installation and commissioning supervising services are provided directly by specialists from Japan. However, mobilization of supervisors became unrealistic due to the spread of COVID-19.
Under such circumstances, provision of remote supervision services has been developed by new approach in order to respond to the needs of customers for such demand.
Initiatives
Although report based instruction installation services were available, provision of on-time remote commissioning services was not realized previously.
Provision of on-time remote supervision services can be implemented by introduction of a new system which enable timely data sharing from customer's main control system supported by experienced instructors, designers, and engineers from the production control department.
Results
Commissioning of supplied centrifugal compressor was successfully completed in April 2021.
Hitachi will further improve the contents and methods of remote supervising services by utilization of digital technologies to develop its unique system.
Hitachi has rich references in supplying of centrifugal compressors for chemical fertilizer plant which enable Hitachi to offer optimum solutions utilizing digital technologies for Blue Ammonia*1 and Green Ammonia*2, as a global carbon neutral trend.
Hitachi is striving to respond to the new normal conditions under COVID-19 circumstances, and contributing to the realization of a sustainable society through the provision of products and services that meet customer's expectations.
*1

Blue Ammonia: Ammonia produced from fossil fuel with CO2 capture and storage.

*2

Green Ammonia: Ammonia produced by renewable energy without usage of fossils.