Provide the remote supervising in real time and respond to new educational needs with and after-COVID-19
Hitachi Industrial Products, Ltd. (hereafter, Hitachi Industrial Products) provided a remote commissioning supervision service for a centrifugal compressors that were delivered to a Methyl Tertiary Butyl Ether production facility in the petrochemical complex of the western Cilegon of Java in the Republic of Indonesia (hereafter, Indonesia), which is Indonesia's largest petrochemical company Chandra Asri Petrochemical Tbk (hereafter, CAP) through Toyo Engineering Corporation (hereafter, Toyo).
Hitachi Industrial Products commenced this service from Toyo-CAP and will provide to the other customers in Kingdom of Thailand, State of Kuwait and Kingdom of Saudi Arabia as well.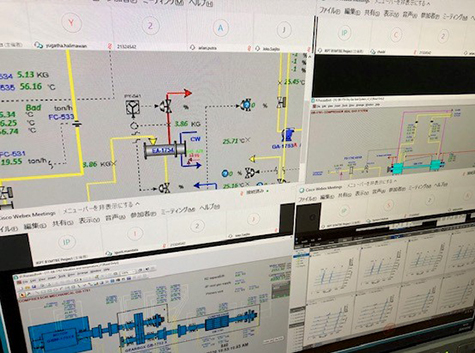 Information sharing by remote support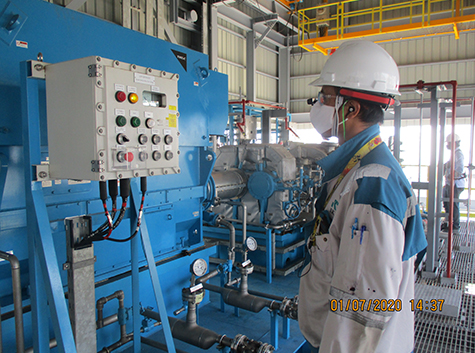 Providing the remote supervising in real time
Background
Our centrifugal compressors are used at petroleum refining and petrochemical plants in overseas countries such as Southeast Asia including Indonesia, Russian Federation, and the Middle East region mainly.
We dispatch our supervisors from Japan to those countries at the time of installation and commissioning of the delivered compressors, however it is not allowed to dispatch our supervisors under the current situation about Coronavirus (COVID-19) infection in the world.
In order to respond to customers ' requests for remote assistance under this situation, we decided to prepare the remote supervising service with the modification of conventional contents and methods of local supervising service.
Initiatives
Although we have some of the experience to provide the remote supervising for the limited activities of installation work by e-mail, we have never provided it for commissioning work.
Therefore, we made a dedicated team for remote supervising assigning the experienced and skillful supervisors and design and production control engineers to support supervisors continuously.
In the meantime, Toyo-CAP provided the significant support to share all necessary information with using wearable cameras and 11 PCs to monitor the all data in each compressor control panel and DCS (Distributed Control System) in real time and appropriate action to complete the work successfully.
Results
As result of the perfect collaboration of professional work of Hitachi and Toyo-CAP, we had completed the compressor commissioning with nitrogen operation for next actual gas operation schedule in August 2020.
The company will continue to contribute to the realization of a sustainable society through the provision of products and services that meet the repression of the new Coronavirus infection, and to respond to new normal with and after-COVID-19 in the future.