Hitachi Industrial Products, Ltd. ("Hitachi Industrial Products") entered into an agreement with PJSC ACRON ("ACRON"), a leading fertilizer producer, whose shares are on the level 1 quotation list of the Moscow Stock Exchange, through Hitachi Capital Corporation ("Hitachi Capital") for the export of centrifugal compressor and its auxiliary equipment ("CO2 Compressor Train") to be installed at ACRON's Urea plant, based on long-term deferred payment terms ("Supplier's Credit") for five years. Shipment will start from May 2020.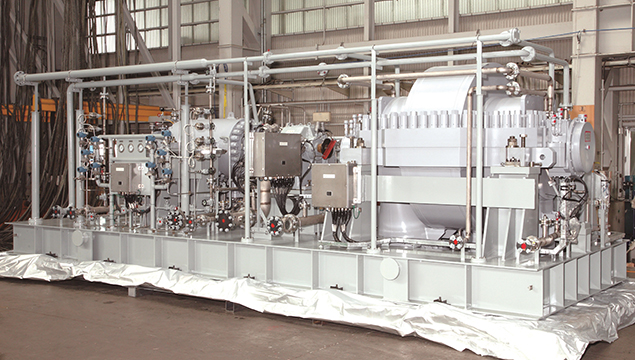 "Centrifugal compressor and its auxiliary equipment"
Background
ACRON offers fertilizers and chemical materials used in the production of fertilizers not only in Russia, but in overseas markets. At its Veliky Novgorod site in Russia Federation, ACRON is planning to expand urea production by utilizing CO2 gas which is extracted from ammonia production process. This CO2 gas will be gathered and transferred to Urea plant for further compression by CO2 Compressor Train for reuse in urea production process.
History
This CO2 Compressor Train will be installed in the down-stream process of the ammonia plant where Hitachi, Ltd. has supplied equipment in 2016 for expansion of ammonia production at Veliky Novgorod site of ACRON.
Result
ACRON has finally selected CO2 Compressor Train manufactured by Hitachi Industrial Products, highly valuing its reliability, high quality and on-time delivery as well as long-term Supplier's Credit provided by Hitachi Capital, with Export Credit Insurance for such Supplier's Credit* by Nippon Export and Investment Insurance.
Since Hitachi developed the first Japanese centrifugal compressor in 1911, centrifugal compressors of Hitachi have been selected in overseas market as "Core products" for various applications, such as Refinery, Petrochemical, Natural Gas Liquids and Ammonia & Urea plant production.
Hitachi Industrial Products is willingly engaging in new solution businesses, by supplying Core products for Customer's satisfaction in order to contribute for sustainable development of society.